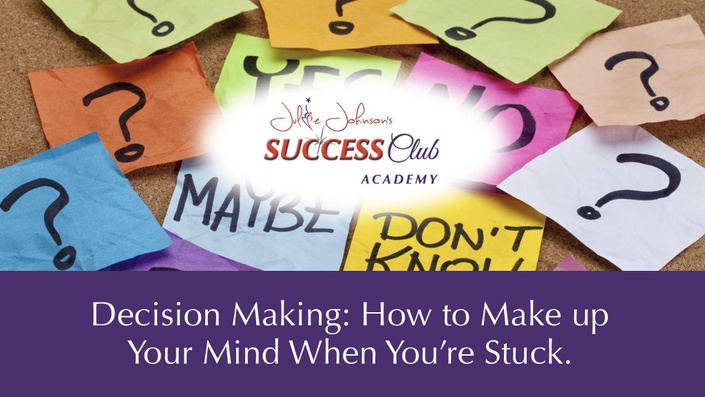 Decision Making: How to Make up Your Mind When You're Stuck
Learn How to Leave Confusion Behind, Always Make The Right Decision For You, And Get Clear on Your Next Step
Watch Promo
Enroll in Course
Do you need to make a big decision in your life but you've been putting it off? Going round in circles?
Does it feel really important to get it right?
So important...that you're overthinking it and in danger of doing nothing?

Except......
● Worry
● Second guess yourself
● Or feel anxious because you "should know what to do"? Or you "should be able to work it out"?
This course is for you if....
● You're a business owner trying to decide on your business direction
● A working parent trying to improve your work/life balance
● A manager trying to decide whether to move up or move on
● Or, someone trying to come to terms with a change in circumstance or move forward after a major life event
Because what happens when you feel so stuck is
You ask yourself the same questions over and over again...staying in your head
You're afraid you'll make the wrong decision...Or that what you decide won't give you what you want
You put pressure on yourself
Which affects your sense of wellbeing, causing you to lack focus and concentration, because it's always either front or back of mind.
And when you stay stuck it affects your sleep pattern, your health and can even have a negative effect on your relationships
What you really need to make an important decision is
A good understanding of yourself, and to feel good about yourself

and
Complete clarity on what you want, on what's important to you and on your priorities right now
Neither of which can come from logic alone and staying 'in your head', by the way!

When you have these, you make a decision that is right for you on every level. A decision that you know will fulfil you
In this course I take you through a different approach to Decision Making
Because most of us adopt a rational and logical approach....
We list pros and cons, costs and benefits, we say in our head, trying to use our mind to problem solve our way out. And we disregard our intuition and feelings because we can't explain them, they make no logical sense...when in fact, we need to use all of us in the decision making process ­ heart, head, body and soul ­ particularly when a decision feels so big, or so important to get right.
When you have a holistic decision making process, it changes your experience of decision making
1. It enables you to tackle the root cause of your problem rather than a symptom, leading you to the absolute best decision for you
2. It highlights the real you enabling you to tap into your inner guidance, rather than relying on your intellect alone
3. It changes your perspective on yourself and your issue, making you feel better and opening you up to new and better solutions
4. It shows you where you've been stopping yourself, so you can see exactly what you need to do to move forward
This course is designed to help you if:
You truly want to make a change and you're committed to figuring out exactly what and how
You're open to exploring the real issue ­ which might not be what you think it is
You'd like a framework to use now and whenever your feelings of overwhelm, confusion, or fear keep you stuck and unable to make up your mind
You want to move out of your head (where you're stuck)
A more holistic approach appeals ­- one based on proven and tested learning and experience ­ my own as well as that of my clients
To be clear...This course is not for you
If you're not really stuck...you've just not made the time to decide
If you know how to resolve your issue ­ you've just not got round to it yet If you're not really interested in changing your life for the better
If you don't want a different approach or perspective
If you don't want to take the time necessary to work through the course and exercises to get the best result
If all you're interested in is decision making tools or techniques. (I do take you through my own Decision Making model, which is a holistic rather than a purely logical or rational approach.)
What you can expect
To get unstuck, to make a decision, to plan your first and next steps, and to be confident in taking them.
Over 1.5 hours of video teaching in bite­sized chunks, 9 comprehensive exercises for guided learning, a workbook, checklists and examples.
What will it mean to you to know your next step and be confident in taking it? To know without a doubt it's right for you?
Here's what my coaching clients and pilot course participants have to say:
"I feel a deep sense of relief...like a weight's been lifted off my shoulders."
"I'm enjoying the time I've saved, because I'm no longer second guessing myself and going round in circles."
"Because I work for myself I realise how much money this has cost me by 'wasting' my time on trying to figure it out by myself instead of getting help sooner!"
"I feel much more motivated and confident because I'm clear about my decision and why I made it i.e. why it's right for me. And I'm focused on moving forward now...Thank you Julie!"
"It feels great to be in action instead of procrastinating, and because you make us do the thinking, planning and decision-making at the start, it feels easy too!"
If that's what it's done for others, it can do the same for you...so please don't underestimate the cost of staying stuck, and how freeing it is to be moving forward with confidence and conviction.
Upon completing this course you will...
● No longer be stuck
● Know how to make the best decisions for you
● Be crystal clear on what's important to you
● Be more connected to who you are and to what you really want
● Understand how you've been stopping yourself moving forward
● Have a blueprint you can use time and time again, whenever you feel stuck
● Be committed to taking action, having worked out the why, what and how
● Be motivated and confident in your approach
Still not sure if this course is right for you?
Take this course for a Free Test Drive.
There are some free videos you can watch right now to learn more about what I'm going to teach you in this course, and to try out my teaching style.
First, be sure to watch the Promo Video above to find out how me and my clients have used this process over the last 12 years.
Then, check out the video lessons below — the ones marked Preview. Scroll down after 'Testimonials' and 'Your Instructor' to the 'Class Curriculum' to view.
My goal with this course, is to walk you through the process, step­-by­-step, so you can apply it to your business, your career or your life, and walk away with something that can truly transform your life as a whole. I try to teach in a simple and straight­forward way. And, to share real examples of how I, and/or my clients, have used what I teach to get real results. I encourage you to download the workbook and exercises, and go through the 3 steps in this course so you can decide on the change/s you want to make, commit to your next steps and create the life or business you want (or something even better!)
Enrol today to get started right now.
I hope to see you in class!
Julie
P.S. Even though this is an online course, I am here to support you. You'll find a Comment Section below each video lesson where you can post your questions so I can answer them. Or, you can simply share your comments so we can have a discussion. And yes, I do answer questions and comments personally.
Testimonials
"I took this course to get clarity on the issue I had and then to be able to plan a resolution. That said, what I learnt was that the problem I had, or rather thought I had, is not the reason I have been un-happy. Other issues that have not been my direct focus have been in the background for some considerable time eating away at my happiness and confidence.
This new understanding means I now have both a short term and long term plan to deal with the issues (some that I have direct control over and others that I can influence.) And going through the course exercises has given me a bench-mark that I can apply to future problems quite rapidly.
Decisions have been made, plans are in place, and my life is moving forward." Callum
"I was stuck and couldn't work out how I was stuck. The course helped me get things into perspective and sort out my goals for this year. I didn't even need step 3 this time, as the first two steps actually helped me to get unstuck and make decisions." Franca
"I like that many of the exercises are simple yet at the same time very deep and thought-provoking. And I was surprised at some of the things that surfaced for me."Lesley

"The whole course was thought-provoking. It made me question things about myself, and I was surprised to have quite an emotional reaction to one of the exercises. Because I had been dithering about going forward with something new the course was most valuable in highlighting that the option I was dithering over would actually link with what I considered most important - my core values. That was a moment of illumination! Thank you. P.S. Julie also answered my questions promptly and sensitively." Anne
"I found the whole course very worthwhile. Although it requires a time commitment from you and a commitment to yourself to be honest with yourself, when you do commit, the exercises do work and they deliver results. I surprised myself with some of the exercises - in a very positive way - I found that I'm a person I like and I can trust." Cal
"What I would say to others thinking about this course is…….You do not see problems the way they are, you see them how you are. This course allows you to look at both the problem and yourself, and see objectively how they interact, particularly with your personal values.
I was slightly sceptical about the course initially as I'm an engineer, and I'm often seen as being un-caring and un-emotional. Whilst outwardly I may not express these, after going through the exercises I am clearly more caring and emotional than even I thought!
In my work I have to make quick decisions that can have a big impact, and I try not to allow emotions or personal feelings to influence these, so taking a step back to look at my emotions and feelings was worthwhile. As was writing everything down. Being able to review my notes helped to view the problem from a different perspective. It simplified things significantly." C.H
"I'd recommend this course because it makes you think about what's important to you and what's behind your goals/dreams, thereby allowing you to decide whether what you're considering will honour your values, or whether a course of action will take you closer to your goals ." A.C

Your Instructor
Julie Johnson is known as the Step into Success Coach because she helps you 'step inside'...to focus first on the internal work, where all change starts, in order to create more external success and happiness.
If you're at a crossroads in your life, or you're ready to make a change, Julie helps with her courses, books, coaching and Success Club support.
30 years of business and management experience
Julie has 30 years of human resources and management experience and has run her own business since 2002. She has plenty of real­-world, practical experience. That's what she teaches in her Success Club and in her online courses in the Success Club Academy.
Author, Coach, Trainer and Speaker
Julie is the author of Stepping into Success, and Top 10 Business Lessons from a Small Business Owner. She has personally coached and trained 1000+ managers, team leaders, directors, solo-­professionals, and working mums to greater happiness, personal effectiveness and improved results. She speaks at conferences and events. She also blogs, and has been featured in business publications and on BBC radio.
On a more personal note
As well as building and managing teams and running her own business Julie's been happily married for 28+ years, is a mum to two grown­-up children, and loves to travel. She is also a lifelong lover of dance....involved in Irish dancing since a young age. Which means she knows a thing or two about mindset, managing herself, managing her time, and living a happy and full life.
Course Curriculum
Introduction
Available in days
days after you enroll
Step 2: Get Connected
Available in days
days after you enroll
Frequently Asked Questions
When does the course start and finish?
The course starts now and never ends! It is a completely self-paced online course - you decide when you start and when you finish.
How long do I have access to the course?
How does lifetime access sound? After enrolling, you have unlimited access to this course for as long as you like - across any and all devices you own.
What if I am unhappy with the course?
We would never want you to be unhappy! If you are unsatisfied with your purchase, contact us in the first 30 days and we will give you a full refund.