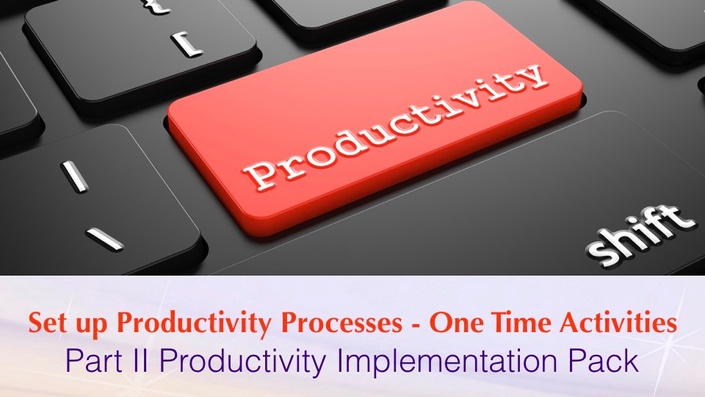 Set up Productivity Processes - One Time Activities
Productivity Implementation Pack (Part II)
Always busy, yet rarely productive? Feeling like there are never enough hours in the day?
If so, you're not alone!
That's the good news.... you're not the only one feeling like this....in fact busy-ness has reached epidemic proportions in the western world.

And the bad news?
It's not only not good for us, it's positively detrimental. Detrimental to our health, to our relationships - to our partners, our children and our loved ones. And detrimental to our emotional health and well-being.
And, it's unsustainable. Sure, you can go on for a while - sometimes a very long while - feeling like that's just the way it is, it's clearly what you've got to do to get by or just to live in the modern world.

But have you ever questioned this? Because this type of thinking stems from buying into society's belief that we're somehow more valuable, the longer and harder we work. And it's simply not the case.
The trouble is, after years of conditioning it's a habit that can be hard to break out of. It takes a fundamental shift in thinking, a different approach to our daily work. And it takes practice.

And this course is designed to give you all three..
A different way of thinking about your work
A different approach to take on a daily basis, one that makes sense to you and is simple to use
A way of working you enjoy practising because you can see IMMEDIATE results
This pack is for you if:
You have a backlog of work to clear
You forget where you've filed things
You have hundreds or even thousands of emails in your inbox
You have notes everywhere
You don't have an effective system to deal with emails
You forget to do important things
You tell yourself your desktop might be a mess, but you know exactly where everything is
You have systems but don't use them because they're too complicated
You can never find emails or documents when you need them
You use your inbox as your to-do list
You procrastinate getting started on new things when they seem too big, scary, or time consuming
You have a desk covered in papers
You use your inbox as your filing system, but have so many folders, it takes forever to find anything
You check your email or social media whenever you get a notification
And you recognise this way of working is no longer working for you. Perhaps it never did...
Just imagine
* Feeling a sense of completion and accomplishment rather than feeling frantic, frazzled or like an underperforming superman or woman
* No longer having to run just to stand still
* No longer feeling you've got to work harder, jump higher, run faster, stay longer, be better….you just have to try something different
You could even start to think about your legacy, and make some serious headway towards creating a bigger impact in the lives of those you love.
Lovely thought, isn't it?
That's why I created this training for you.
This implementation pack tackles productivity head-on, and teaches the SAME processes I use on a daily and weekly basis to stop myself from simply being 'busy being busy'
...even when I have a million-and-one things swirling around my brain and too many people to connect with.
These processes can be used to help you clear your mind and focus on your next most important task - without you even having to leave your desk.
During this training I walk you through the steps that I take to combat stress on a daily basis, so that you don't end up tearing around like a crazy person.
This implementation pack is a series of activities you implement only once. Each activity includes background information and instructions, flowcharts, checklists, templates and my own examples of the personal processes I've set up to help me be more organised, productive and in control.
Everything in the course is designed to help You establish your own simple processes and structures that will work for you. You can use my processes, or tweak them to suit you....so that you feel calmer in the moment and can keep moving forward - rather than spiralling into anger, fear, anxiety, or despair.
And once you're feeling more in control, you can maintain that feeling of ease by following your processes, by practising, and you can be more consistent in your approach to managing your time and energy. Enabling you to become, quite naturally, more productive.
Don't waste any more of your time feeling confused or out of control
You don't have to.
This course is easy to follow, with discrete activities you can do individually, in stages, and at your own pace. Once completed they will never need to be repeated. You simply need to follow the processes and structures you've set up to rewire your brain and improve your work habits.
By investing a little time and money now you will reap the rewards in your sanity, in your sense of well-being, and in your productivity and effectiveness.
That's priceless...and yet I do need to put a price on this. So...
How much is it worth to save your sanity? To feel in control again?
How much is it worth to be moving forward and gaining momentum towards your vision and goals?
How much is an hour of your time worth? What if, by implementing and practising these processes, you could release an hour each day, just for you, to do with as you please?
Even at a super low £10/hour that would be £10 x 5 working days x 46 weeks (allowing for a full 6 weeks of holiday) = £2,300 or 230 hours. At £100/hour that would be £22,300 and 2230 hours. And that's still being conservative.
Now consider that the price of this course, and your investment in yourself, is only £77!
Hopefully a no-brainer, so you know immediately if it's right for you...
To get started, all you need to do is click the 'Enrol in Course' button below, and you'll get instant access. It's super simple, and I promise you won't be disappointed.
Your Instructor
Julie Johnson is known as the Step into Success Coach because she helps you 'step inside'...to focus first on the internal work, where all change starts, in order to create more external success and happiness.
If you're at a crossroads in your life, or you're ready to make a change, Julie helps with her courses, books, coaching and Success Club support.
30 years of business and management experience
Julie has 30 years of human resources and management experience and has run her own business since 2002. She has plenty of real­-world, practical experience. That's what she teaches in her Success Club and in her online courses in the Success Club Academy.
Author, Coach, Trainer and Speaker
Julie is the author of Stepping into Success, and Top 10 Business Lessons from a Small Business Owner. She has personally coached and trained 1000+ managers, team leaders, directors, solo-­professionals, and working mums to greater happiness, personal effectiveness and improved results. She speaks at conferences and events. She also blogs, and has been featured in business publications and on BBC radio.
On a more personal note
As well as building and managing teams and running her own business Julie's been happily married for 28+ years, is a mum to two grown­-up children, and loves to travel. She is also a lifelong lover of dance....involved in Irish dancing since a young age. Which means she knows a thing or two about mindset, managing herself, managing her time, and living a happy and full life.
Course Curriculum
Course Overview
Available in days
days after you enroll
Emails
Available in days
days after you enroll
Set up Other Processes & Systems
Available in days
days after you enroll
Frequently Asked Questions
When does the course start and finish?
The course starts now and never ends! It is a completely self-paced online course - you decide when you start and when you finish.
How long do I have access to the course?
How does lifetime access sound? After enrolling, you have unlimited access to this course for as long as you like - across any and all devices you own.
What if I am unhappy with the course?
We would never want you to be unhappy! If you are unsatisfied with your purchase, contact us in the first 30 days and we will give you a full refund.